PURPOSE
---
Flame detector ALMAZ is designed to detect flame coming from sources of fire and accompanied by ultraviolet (UV) radiation in the wavelength range from 220 to 280 nm.
Detector is used in structure of automated fire detection systems together with alarm control or alarm actuating devices, that provide power supply voltage 12-30 V in the line of fire alarm.
There are 2 modifications of the detector present:
general modification for installation in premises of various buildings and structures, also installation of the detector is possible outdoors under a canopy (for example, to protect gas stations, oil depots, and so on).
explosion-proof modification for installation in explosion dangerous places (for example on factories, mines, chemicals warehouses, others).
General modification of the fire detector
(click on image to enlarge)

Explosion-proof modification of the fire detector
Level of explosion protection - 1ExdIICT6/T5
Level of case protection - IP66
(click on image to enlarge)
Detector uses modern indicator of ultra-violet radiation as a flame sensor. This creates immunity of the device to sunlight, light from incandescent lamps and fluorescent lamps.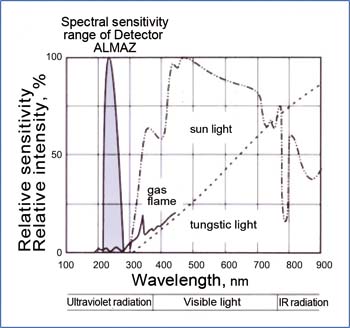 On this graph you can see that a narrow spectral sensitivity region of the detector does not intersect with the relative characteristics of sunlight and tungsten light. Therefore, in contrast to similar flame detectors working on converting the infrared (IR) spectrum of light, the installation of the Detector ALMAZ can be realized anywhere in the protected premises, including, in front of windows or in the immediate vicinity of the lighting fixtures. Also the detector does not react to sources of heat radiation.
Moreover, at this distance the unit detects a flame created by the combustion of petroleum products as well as various alcohols, coal, wood, synthetic fibers, plastics, textile, rubber, pulp and paper products, paints and etc.
SPECIFICATIONS
---
Maximal distance of flame detection (0,1 m2 area)
up to 50 m
Viewing angle
not less than 90 °
Supply voltage
10-30 V DC
Current consumption in standby mode
not more than 0.25 mA
Current consumption in emergency mode
not more than 30 mA
Dimensions:
- general modification
- explosion-proof modification

125 x 90 x 112 mm
125 x 90 x 112 mm
Weight:
- general modification
- explosion-proof modification

0.55 kg
1.25 kg
Operating temperatures range
up -40 to +55 °С
Degree of case protection:
- general modification
- explosion-proof modification

IP54
IP66
Material of the explosion-proof detector case
Corrosion resistant modified aluminum-silicon alloy GALSi13 of "KSi13", resistant to salt spray and other chemicals, including resistance to pairs of hydrogen sulfide and hydrochloric acid, intrinsically safe at frictions
Material of the explosion-proof detector glass
Impact-resistant quartz glass
Covering an explosion-proof detector
Antistatic polymer-epoxy covering, intrinsically safe at frictions, resistant to working environment and ionizing radiation. Color RAL 7035 (upon request RAL 3000 FIRE)
Autonomous audible warning system of fire (flame) on the territory of the petrol station
---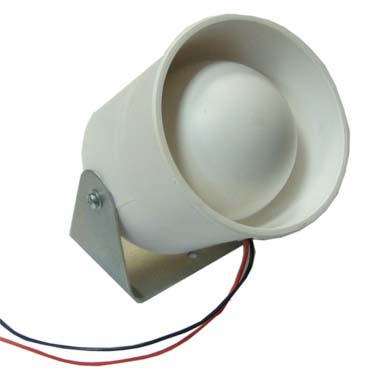 Audible alarm unit
A loud signal of this System can warn the staff and customers about outbreak of flame or fire in the territory of the petrol station. The system consists of several flame detectors and audible alarm unit (with sound volume is 90 ... 100 dB) and power supply (car battery of voltage = 12V). Flame detectors are installed at gas stations so that to provide control over the entire territory of the gas station